美国国务院:第2轮叙利亚问题谈判将举行
美國務院:第2輪敘利亞談判16日舉行
美國國務院12日說,第2輪終止敘利亞血腥暴力衝突的談判將於本月16日在倫敦舉行。前一天的談判將在瑞士舉行。美國國務卿凱瑞(圖)的發言人柯比說,兩場談判,凱瑞都會參加。(中央社檔案照片)
(中央社華盛頓12日綜合外電報導)美國國務院今天說,第2輪終止敘利亞血腥暴力衝突的談判將於本月16日在倫敦舉行。前一天的談判將在瑞士舉行。
美國國務卿凱瑞(John Kerry)的發言人柯比(John Kirby)說,兩場談判,凱瑞都會參加,「以討論解決敘利亞危機的多邊方式,包括持久停止暴力活動和恢復人道援助運送」。
凱瑞和俄羅斯外長拉夫羅夫(Sergei Lavrov)及「重要的地區夥伴」將出席15日的瑞士洛桑(Laussane)的談判。
在倫敦的會議上,凱瑞可能向歐洲各國外長提出簡報。
拉夫羅夫說,土耳其、沙烏地阿拉伯,可能還有卡達,都可能參加洛桑的談判。(譯者:中央社簡長盛)1051013
Top U.S. diplomat to visit Switzerland, Britain Oct. 15-16 for Syria talks
 来源:中国新闻网      2016年10月13日10:54
  据"中央社"报道,美国国务院称,第2轮终止叙利亚暴力冲突的谈判将于本月16日在伦敦举行。
  美国国务院发言人柯比说,美国国务卿克里将参加这一谈判,"以讨论解决叙利亚危机的多边方式,包括持久停止暴力活动和恢复人道援助运送"。
  在伦敦的会议上,克里可能向欧洲各国外长提出简报。
  此外,15日,克里还将在瑞士洛桑参加谈判。俄罗斯外长拉夫罗夫及"重要的地区伙伴"将出席15日的谈判,这一谈判也将与叙利亚局势相关。拉夫罗夫说,土耳其、沙特阿拉伯等,都可能参加洛桑的谈判。
Syria talks involving US to take place this weekend, says Lavrov
Russian foreign minister says meeting of those 'with direct influence on the ground' will allow 'businesslike discussion'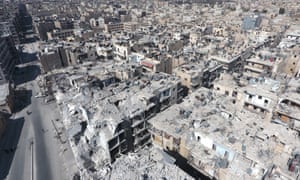 An unexpected round

of multilateral

talks

on the future of Syria is to start on

Saturday

involving initially Russia, the US, Saudi Arabia, Turkey and possibly Qatar, the Russian foreign minister Sergei Lavrov has said. The talks will be held in

Lausanne, Switzerland.
Lavrov told CNN he hoped that a meeting involving only those "with direct influence on the ground" in Syria would allow "a businesslike discussion, not another general assembly like debate". It was not immediately clear whether Iran would be represented.
The UK, France and other European states will be excluded from the Lausanne meeting, but the US secretary of state, John Kerry, is expected to brief European foreign ministers in London afterwards.
The

state department, announcing Kerry's weekend talks, said tthe Lausanne and London talks were to "discuss a multilateral approach to resolving the crisis in Syria, including a sustained cessation of violence and the resumption of humanitarian aid deliveries

".
The US, UK and France have called for Russia and the Syrian regime to be investigated for war crimes. President Vladimir Putin countered by shelving a 2000 deal on the disposal of weapons-grade plutonium and cancelling a bilateral agreement on research cooperation between Russia and US nuclear sectors.
In his CNN interview, Lavrov derided Boris Johnson who was the first official to publicly accuse Russia of taking part in the 19 September bombing of an UN aid convoy. Lavrov said the UK foreign secretary of arrogance and being a "Jack of all trades", going from being from a mayor and "a friend of Russia" to "getting ready to become to some kind of international recognised prosecutor general in the Hague."
The Russian foreign minister claimed that Moscow was taking "all necessary precautions … to advise the Syrian army to be very specific and very targeted in its actions towards Nusra".
Lavrov accused the former al-Nusra Front, now known as Jabhat Fateh al-Sham, thought to number about 1000, of using eastern Aleppo's 275,000 population as "human shields".
A French effort to secure a ceasefire agreement at the UN security council at the weekend was vetoed by Russia on the grounds there was no clear commitment that jihadi forces in eastern Aleppo would leave the city.
The presence of Turkey, Saudi Arabia, and Qatar at the Lausanne meeting suggests there will be a focus on whether non-jihadi Syrian opposition fighters are willing to disentangle themselves from al-Nusra Front.